Embroidered patterns in our country have a long tradition and can be divided into several groups. Patterns and themes are a whole lot, and it only depends on the human imagination of how the patterns will look and the opportunities they will use. According to this, we can also combine and modify individual patterns for the purpose for which we want to use it. Patterns are designed mostly by ourselves and we create templates for different combinations and uses. In general, we have two categories of patterns.
patterns for decorations
patterns for ornaments
The patterns we use are created by ourselves, and we then combine them according to the theme. We design and prepare patterns for embroidering on various topics. We combine several modeling techniques to achieve a nice effect and pattern.
Patterns for embroidery are many and there will be many kinds. There have been many techniques and patterns that are now appearing on various embroidered items. Whether it's modern designs or patterns and techniques from our grandmothers. Both manual and machine embroidery has its own rules and its advantages and worries. Sometimes it is quite difficult to transfer old ideas to modern patterns. We try to create new patterns that will enrich already existing and used patterns.
Decoration
We combine patterns for decorations into different positions of objects. Decorations as such have their meaning and make us interior. Sometimes it really depends on one little thing, a decoration that gives the interior a fresh freshness. It is to each of us what taste we have and what we like. We can never be glad to everyone and the same is true in decorations. Some people like our decoration, someone does not like it because they have reservations about them, it does not matter to anyone. Every decoration has its place and when we make something we know that the decoration will always find its place. And he will be very happy with his future owner.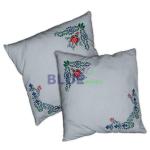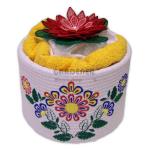 Ornaments
we produce for various occasions and uses. We make ornaments for wedding days, Christmas decorations, Easter decorations, birthdays or any anniversary. These opportunities are inexhaustible. There is always an opportunity for us to make joy, adornment to complete the whole, to give the little thing. That's why we design and produce embroidered embellishments in different colors, sizes and varied shapes. Embroidered ornaments are also used in our production of textile cakes from towels and bath towels.